Posted on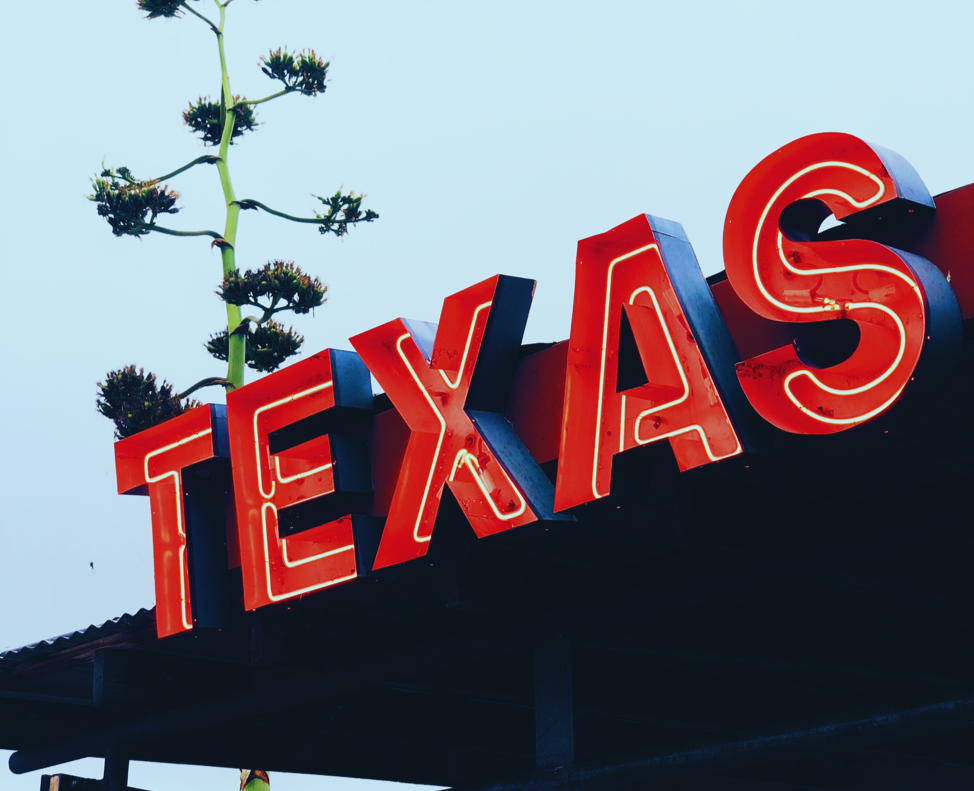 You know the old cliché, everything is bigger in Texas. And when you're talking taxes, the savings are what's bigger. That's because Texas is one of seven states that does not impose a state income tax on its residents. Due to this, a lot of folks are buying a home in Texas and making it their domicile.
So, you may be thinking to yourself, how do I become a Texas resident to take advantage of the tax benefits? We're going to provide you with some helpful suggestions and links to get you on your way to Texas residency. But before we get into that, it's very important to mention that your old state might not give up those tax dollars without a fight, especially if you're keeping your home there. Avoiding residency in your old state is just as important as establishing residency in Texas. You should consult with your accountant and make sure you're taking the proper precautions to protect yourself from the tax burden in your prior home state. Now, let's make you a Texan!
Move To Texas

The very obvious first step is to buy or rent a home in Texas and move to the state.

Update Your Mailing Address

You'll want to start receiving mail at your new address as soon as possible. Mailing documents are a great indicator of your residency and can be used as proof when trying to get a new ID. You should change this with the USPS but also go to the source of the mail and update your mailing address on the account.

Register Your Car in TX

In order to register your car, it needs to pass inspection (find your inspection station) and you need to ensure you have met the minimum insurance coverage. After that, you can register your car and get your new license plates by going to the local county tax-assessor collector office. Bring your insurance cards, proof of inspections, proof of ownership, and Form 130-U. You can get the Form 130-U here.

Here is a helpful link from the Texas Department of Motor Vehicles with more information: New Resident DMV Page

Get Your Texas Driver License or Identification Card

Getting your Texas ID is a big step toward proving you're a Texas resident. It requires a few things to be taken care of prior to applying which is why we've put it later in the list despite its importance. However, don't wait too long to get to this step because you're required to get your new ID within 90 days of moving to TX. Here are some helpful links that will help you pull together the required documentation:

Register To Vote

With your new ID, you can now register to vote in TX. This is a great way of showing that Texas is your home. And don't just register, make sure you actually get to your polling place and vote during elections.

You can register to vote by filling out an application and submitting it via mail or directly to your county's Voter Registrar's Office.

Find Local Professionals

Find new professionals in the state, such as an accountant, a lawyer, doctors and a dentist.

Update Your Estate Plan

With your new lawyer, update your estate plan to meet any Texas requirements.

Get Your Pets Settled In

If you have a pet, move them to your new home and get them registered with Texas and find a new vet in the area.

Bank Locally

Find a local bank or change your account to the local branch of your current bank. If you have a safety deposit box, you should move that to your new bank as well.

Spend Time in Texas

The more time you spend in Texas (and the less you spend in your prior state), the better. Make sure you keep track of your days in each state throughout the year. If you're prior state has a residency threshold, know how many days you're allowed to spend there and plan accordingly. TaxBird can help you count your days per state automatically and see your projected counts for the year by inputting your plans.

Find Your Texas Style

Get on over to the store and get yourself a nice pair of boots. This might not help you prove your residency but at least you'll look cool while you're completing all the other steps.
Below you'll find a summary checklist of the factors for residency and a summary of all the links that went into this blog. Good luck in Texas! Now, put on those new boots and head over to the honkytonk.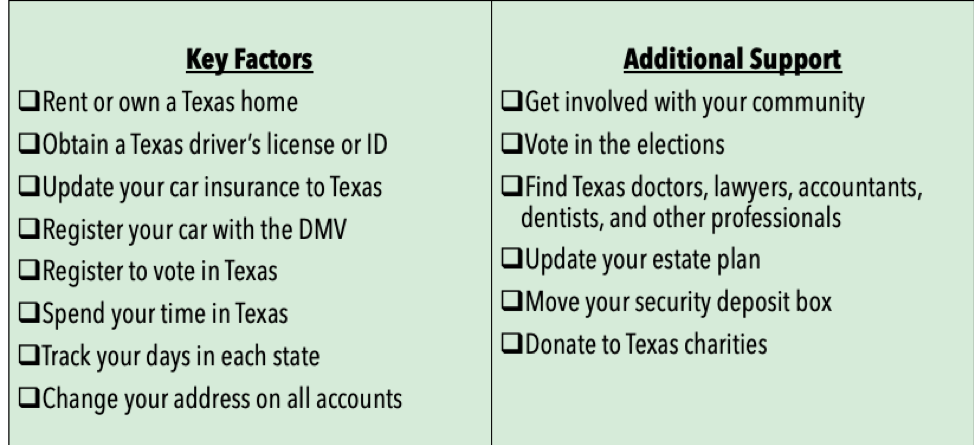 Links
wikiHow: https://www.wikihow.com/Become-a-Legal-Resident-of-Texas
Form 103-U for Car Registration: https://www.txdmv.gov/component/docman/doc_download/998-form-130-u-application-for-texas-title-and-or-registration?Itemid=232
Vehicle Inspection Locations: http://www.dps.texas.gov/rsd/vi/VIactiveStationLocator/default.aspx
Texas Department of Public Safety License Page: http://www.dps.texas.gov/DriverLicense/
Apply For License: http://www.dps.texas.gov/DriverLicense/ApplyforLicense.htm
License Application Guide: http://www.dps.texas.gov/Internetforms/Forms/DL-100E.pdf
New Resident License Page: http://www.dps.texas.gov/DriverLicense/movingtotexas.htm
USPS Change of Address: https://www.usa.gov/post-office
TaxBird – Residency Tracking App: https://www.taxbird.com/
Questions, comments, feedback? jared@ware2now.com
---
---
Sign up for email updates, notifications on new blog posts, and local events.
Subscribe
---